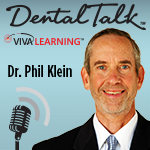 Series: Clorox Healthcare
Guest: Dr. Karson Carpenter
CE Credits: 0.25 CEU
Release Date: 3/27/2020
Dental podcast hosted by Dr. Phil Klein: This Viva Podcast will address the current COVID-19 outbreak through best practices in cleaning and disinfection. Our guest is Dr. Karson Carpenter, a practicing dentist in Farmington Hills, MI and President and CEO of Compliance Training Partners. He has over 25 years experience designing educational programs to bring dental and medical facilities into compliance with governmental regulations including OSHA, HIPAA and infection control.
Please
Log in
to take exam and earn CE credit.
The Latest on OSHA Inspections, N95 Respirators, Fit-testing, Air Filtration and Disinfecting Wipes
1/9/2021 - CE Credits: 0.5 CEU
(
Take Exam
)
Coronavirus and your Dental Practice - How do I keep my staff and patients safe?
3/27/2020 - CE Credits: 0.25 CEU
(
Take Exam
)
View All Episodes from this Series »